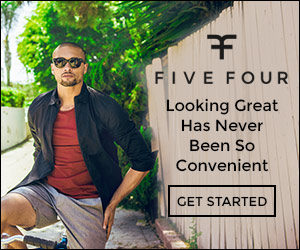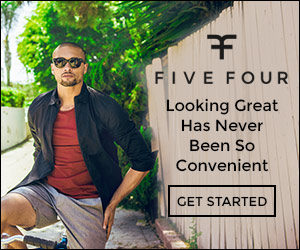 Five four club is a premium cloth delivering service that is subscription based and has made it easy for men to get a curated wardrobe delivered at their doorstep every month for a low fee.Subscriptions allow shoppers to enjoy different product types for less. Women find a lot of good in subscription brands as they can have different subscription boxes for jewelry, makeup, clothing, etc. Today, men are also increasingly enjoying the benefits of subscriptions thanks to companies like Five Four Club.
Five Four Club Review- How it Works?
Five Four Club is a men's brand that offers men a monthly subscription service. The contemporary men's brand offers men the opportunity to endow their wardrobes with apparel of their desired style and preference. According to many Five Four Club reviews, the company has succeeded in its main aim of transforming its member's confidence by enabling them to dress well daily at a manageable budget. Five Four Club's core values include confidence, convenience, community and style. Monthly delivery of new clothes provides men with a great deal of convenience. Five Four Club believes that the wardrobe additions its members receive help them to dress in style and thus creating a community of confident and up-to-the-trends men.
The procedure of signing up for Five Four Club membership is simple and quick. You just have to take a simple survey about your apparel preferences – information on your style and size requirements. Each month, the company sends to you 2 to 3 Five Four Club branded apparel pieces. The monthly charge for members is $60. Additional charges apply to non-members and include taxes and shipping charges depending on the price of the apparel and their shipping address. Promotional offers may reduce these charges. There are plenty of promotional offers for members to enjoy yearly.
As a member, you start receiving curated items on a monthly basis. Also, you get a 50% discount on the item you buy from Five Four Club's online shop and can access items that are exclusively for members. New members are excited by the number of compliments they get when they start dressing in Five Four Club apparel. They can enjoy styles and brands that they would not have normally thought of or tried.
What if I am dissatisfied with what I get?
If an item doesn't fit, or you don't like any of its attributes, as a member you can return it at no charge. Five Four Club has a very favorable return policy. If you want to stop receiving the monthly package for some time or completely, the procedure is very straight forward. This is because the company does't have a minimum commitment policy. You can suspend or withdraw your membership any time you want, even after your first month. It's not the intention of the company to force items on their members in any way.
The company advises that a member who wishes to cancel or pause their monthly deliveries should do so before the 10th of the month he doesn't want to receive the monthly package. This enables the member to avoid being charged for the month. Members can call use Live Chat to contact a representative who will help them to update their membership status. For security reasons, a cancellation process is only initiated when a member speaks to a customer experience representative.
Pros of a Five Four Club Subscription
1. Great value for money:
The Five Four Club membership subscription enables members to access clothes of greater value than what they would get from traditional apparel stores. With just a $60 subscription monthly fee, you get 50% off every item you buy from Five Four Club online shop.
2. You get highly personalize packages:
The company personalizes each apparel package according to the customer's style and fit preferences. This is done using the information provided through the short quiz that accompanies each customer's monthly subscription box. With highly personalized clothes, the company makes sure that every member is satisfied. Though you don't choose the items that you receive every month, the company does the best to surprise you with the best fitting items.
3. Hassle-free apparel shopping:
Five Four Club provides the perfect solution for men who don't like scouring store shelves looking for the right clothes to buy. The brand does all the selection for you so that you save time and still dress well.
4. Access to quality material from well-known brands:
Five Four Club is reputed with providing members with high-quality apparel from top brands. This fulfills the company's promise of enhancing their members' confidence through quality clothing.
5. Free size exchanges and shipping:
Members of Five Four Club don't have to pay extra charges to cater for shipping. The $60 charge is inclusive of shipping fees for their monthly subscription box. Also, they aren't required to settle any other additional fees for return shipping or size exchanges.
If you want to know the experience provided by Five Four Club before subscribing as a member, visit the company's lookbook. It is a compilation of available styles, their history and creation, where the style is most prominent, best times for wearing it, and grooming tips for the best appearance. If you are impressed by what you see in the lookbook, you can go ahead and become a Five Four Club member.
Five Four Club reviews reveal the company's dedication towards providing excellent customer service. Questions to any basic questions concerning membership can be found on the FAQ section of the website. For further information about Five Four products and services, email or call a representative at any time from 7:30 a.m to 5:00 p.m PST during weekdays and your concerns will be taken care of. The customer experience representatives at the brand are always ready to help, according to Five Four Club reviews.
If dressing well and in style is something you value, but you lack the time to go to various shopping malls for the clothes you like, Five Four Club services are for you. Subscribe as a member and let the company do what it does best by providing you with the quality, style and fit of clothes that keep your wardrobe updated. With monthly deliveries of customized apparel packages, you'll maintain your unique sense of style. You'll enjoy discounted purchases and free shipping exchanges for only $60 a month. Check out this compelling shopping option and join the group of men who've known the secret of dressing in style in a hassle-free and budget friendly way – the Five Four Club way.