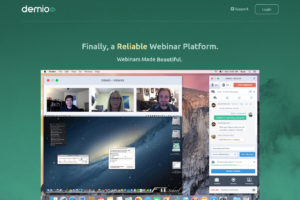 Demio is a state of the art webinar platform where you can run a webinar online and promote your products and business easily. Webinars are hot and they help you meet online and promote or sell your products fast. In this Demio review you will quickly learn what the product is and how it can help you enjoy the benefits of making money online easily.
Demio Review- More Details
Demio is a webinar platform that has gained recognition as one of the best webinar platforms. Its features and capabilities make webinars memorable and productive. Using Demio, businesses with multiple offices in different geographical locations are able to hold conferences online in a secure and inexpensive way. The platform is equipped with tools that enhance its ability to hold online seminars conveniently.
Demio Webinar Platform Review- Main Features:
1. It's Easy to Create a Webinar with Demio
You don't need to be tech savvy to succeed in creating your webinar. Within seconds, you can have your webinar up and running. The platform is designed in a very simplistic manner to ensure that users enjoy the experience. To begin your online event, you need to sign up for a plan and invite anyone on the internet to participate.
The intuitive nature of the webinar platform allows you to invite hundreds of prospective attendees at one time through customized invitations. You can choose to change the dates and time of your online event. Demio provides you with templates that help you to design interesting invitations that motivate expected participants to attend your conference or other events. The people you invite don't have to register to their own plans to participate. The Demio application can be installed on a PC or Mac so that you enjoy all the features wherever you go.
2. Automatic Recording
All your conferences, presentations, learning sessions, etc. are automatically recorded. Demio automatically uploads then in HD into your account where you can download them later. This feature saves you the hassle of putting in place other mechanisms to record your events.
3. Ability to Integrate with Other Applications
One of the most important applications that can be linked to Demio is Outlook. Through Outlook, a user is able to distribute invitations. Demio lets you invite some participants as presenters so that when they log in, they are given specific presenter roles. You can also integrate Demio with social media platforms such as Facebook and Twitter. Using these apps, it's very easy to promote your events. Sharing is very easy even when the event is going on. You just have to share the meeting's URL and anyone can view the proceedings.
4. Better Interaction and Feedback Mechanism
Demio offers two ways of participating in the webinar – by VOIP, or telephone. Using VOIP, participants use their computers' microphones and speakers. Using telephone, Demio randomly generates a number that users can dial to join the event. There is interesting interaction between attendees during the webinar. Whenever a user wants to ask a question, he/she virtually raises a hand and chooses an attendee to engage. The pooling table feature helps one to get real-time feedback to a question.
When your event is over, the Demio platform allows you to generate reports on the effectiveness of the event. You can see the number of individuals who responded to your invitation. Also, you get to know the number of people who engaged each other in questions. The post-webinar survey tool enables you to engage participants as you seek to sharpen your webinar expertise.
5. User Friendly Interface
Unlike other webinar platforms that feature a full-screen webinar console, Demio provides a free-floating control panel that lets users arrange different windows on the screen so that they can view other applications. The built-in webcam sharing attribute also makes communication between different participants very easy. A user can upload media, such as videos, directly onto Demio so that other members can access it. You can also share a particular application, your desktop, or multiple monitors with your audience. The real-time screen sharing feature offers the advantage of enhancing more effective discussions.
Demio also provides a set of tools that help users to emphasize different aspects. These tools come in handy when making presentations and include a pointer, highlighter and arrow tool. The feature allows users to highlight or emphasize specific areas within a presentation where there is a need for more attention.
Demio assigns different colors to different users for easier distinction. At a glance, you are able to determine who you are talking to, who's asking a question or contributing to the webinar. The app also allows you to decide which participant to control the session. If you need to transfer control to a specific participant, Demio allows you to do so. The status update features and the chat window make it very convenient for guests to comment and ask questions. A user is also able to differentiate between messages directed to him as an individual and those sent to him as a presenter.
6. Multi-lingual Options
All events of Demio are designed to have language options. A user can set the default language or change it anytime they have an online meeting. Once the user specifies the language, chat and control options are changed accordingly. This feature enables users to save time as they don't have to keep translating different material while the webinar is going on.
How is Demio priced?
A user can choose a suitable monthly subscription package depending on the number of users anticipated to be participating in the webinar. The packages are as follows:
– $237 per year for 100 users
– $367 per year for 500 users
– $497 per year for 1000 users
Demio offers a one-month free trial period. If you pay a full-year subscription, Demio gives you a 20% discount. After you subscribe to any plan, you can access a plethora of other services offered by Citrix.
With Demio, you can hold your webinar at any time. The help and support team is available round-the-clock through the live chat. In the case of a problem, Demio technicians can view your webinar and quickly offer a solution. Demio also offers guidance to hosts and presenters on how to use the application. The support page also features a multifunctional toolbar that users can utilize to search for articles, videos and user guidelines. The Citrix community can also help you in case you don't understand something about Demio.
The invaluable features of Demio make the app one of the best webinar platforms available in the market today. With Demio, you are sure of a successful webinar that will give more exposure to your event, effective content sharing, and efficient collection and analysis of data about your audience.