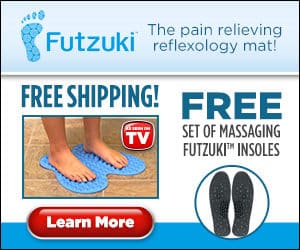 Futzuki is a foot pad that enables you to be your own doctor for foot pain and associated issues. It is designed to relieve foot pain in a simple way. Futzuki also claims that the foot pad can send pain relieving signals to other parts of the body. By using this unique foot pad regularly, you can relieve heel pain, plantar fasciitis, arch pain and tingling – almost all conditions brought about by bad feet.
Futzuki Review-An Introduction:
As the name suggests, Futzuki reflexology foot mat uses the principle of reflexology. It has reflexology pressure points that massage different parts of the foot that are responsible for pain relief. The foot mat has soft ball-shaped protrusions. Each of these protrusions contains many contact points. Futzuki claims there are more than 2800 points in these protrusions. Reflexology points exert a gentle pressure on your feet when you step on the pad and produce a massaging effect.
Futzuki Mat Review- More Info:
Futzuki is made by a Philadelphia-based company called Plymouth Direct. The company has close to two decades of experience in homecare and healthcare products.
Main Features of Futzuki Foot Mat:
– It has over 2800 reflexology points. These points provide more contact with reflexology areas on the feet and stimulate these areas to increase circulation thus causing pain relief.
– It is designed to massage heels, pad, arch and toes
– It is made with an innovative design that combines the ancient idea of reflexology and modern medical foot therapy to provide one of the world's best foot pain relief breakthroughs.
– Futzuki is made of durable latex-free material and is easily washable.
– The mat is perfect for home and office use
Benefits of Using Futzuki Reflexology Foot Mat:
– Using the foot mat does not have any side effects
– The pad is simple to use; even children can quickly learn to massage their feet
– It provides temporary relief from foot pain
– It also helps to relieve pain in other parts of your body by sending pain relief signals to different parts of the body as it massages your feet.
– Futzuki works out muscles knots in the arch and supporting muscles and helps to reduce stress. You feel a sense of well-being after using the foot mat.
– It is inexpensive
How Does Futzuki Work?
Designers of Futzuki reflexology foot mat aimed at providing consumers with a simple and convenient way of effectively relieving foot pain especially that which is associated with plantar fasciitis, arches, heels, and foot tingling. Once you place your foot on the foot pad, whether standing or sitting, you start feeling the massaging effect of the 2800+ plastic massage points on the areas of reflexology.
The soft rounded points on the Futzuki foot mat are said to stimulate the areas of reflexology on your feet and this stimulation sends pain-relieving signals throughout the body.
In other words, the contact points on the Futzuki reflexology mat stimulate tired and sore feet and increase the flow of blood. This action results to a feeling of relaxation and the user experiences moderate pain relief. One important thing to remember when using Futzuki reflexology foot mat is that there is rarely a foot mat that provides a comprehensive solution to foot pain.
Futzuki has been designed to provide everyday foot pain relief and comfort and must be used regularly for best results. The mat is worth investing in if you experience foot pain on a daily basis and are looking for a convenient way of managing your situation.
Some people feel a little uncomfortable standing on the foot mat barefoot. This is expected because therapy results are always subjective. How a type of therapy works with one person may be different from how it does with another person. In case you feel pain standing on the foot mat barefoot, instructions indicate that you can wear socks so that you get the massaging experience without feeling pain.
The Science behind Reflexology:
By definition, reflexology (or Reflex Zone Therapy) is a therapeutic method of pain relief that works by stimulating predefined pressure points on hands and feet. In this form of treatment, specific spots on the surface of the body such as the soles of the palms and feet are methodically pressed.
The aim of reflexology is to suitably influence the internal organs of the body. The spots that are focused on have a correspondence or link with internal organs of the body that are responsible for pain and stress reduction.
Reflexology is a type of alternative medical therapy that was very popular in ancient Egypt, India, and China. It uses the idea that when particular parts of the body are massaged, pain in other parts of the body is also relieved. Reflexology assists circulation throughout the body by working with pressure points to reduce pain.
You might be wondering why reflexology focuses on the feet. According to Dr. Dhiren Gala (Mumbai) and the Institute of Alternative Medicine (India), the feet are mirrors of the body. Internal organs of your body are represented on specific points (reflex points) on the soles of your feet. Massaging all of these points for a few minutes each day normalizes the functioning of these internal organs and restores their mutual coordination.
The reflex points can be stimulated by walking barefoot on sand, or on uneven ground. But you can equally benefit from reflexology by using a reflexology foot mat. Reflexology can help you to maintain or regain vibrant health.
Though not many people fully understand the science behind reflexology, many believe in the power of the principle. Users of Futzuki reflexology foot mats report that the foot mat works fine and performs its asserted functions.
Futzuki reflexology foot mat is for people who are looking for a natural way of relieving foot pain. It is for you if you want to benefit from the convenience of everyday foot massage and pain relief. The foot mat will also enable you to deal with the stresses of everyday life so that you can achieve better health and an improved quality of life.
You can carry your foot mat wherever you go, be it to the office, hotel room, a trip or even a holiday. With Futzuki reflexology foot massage mat, you know you have a reliable foot massage solution and are always sure that your internal organs are working well.